Your kitchen is your family's hub and one of the areas in your home you spend the most time in. But if you're tired of it after so many years, or the cabinets are starting to look faded, dated or worn out, you won't enjoy cooking or entertaining guests at home anymore. Furthermore, painting or refinishing your kitchen and bathroom cabinets are some of the best ways to improve the look and value of your home if you decide to sell it.
Clearwater Painting & Restoration is your Boise, ID choice service for cabinet refinishing and restoration. We can help you turn your kitchen's tired old cabinets into something worthy of a feature in a magazine. Plus painting or staining the cabinets in your bathroom and kitchen costs less than replacing them. This translates into more money for your family to enjoy other activities, or for other remodeling tasks.
We Can Paint Any Cabinet Including
Solid Wood
Wood Laminate
Wood Veneer
Metal
Plastic Laminate
Melamine
Thermofoil
Medium Density Fiberboard (MDF)
Plywood
Particle Board
Whether Clearwater Painting & Restoration is painting or staining your kitchen or bathroom cabinets we provide the same level of service you expect from us. We've been in the industry for nearly 40 years which means better service and a higher level of skill on every cabinet project we do for you.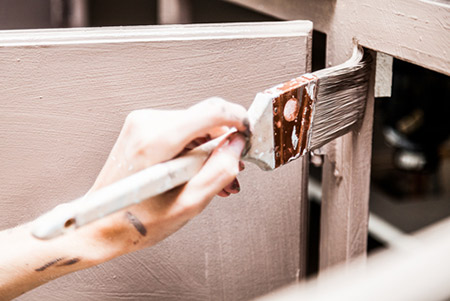 You might be tempted to paint or stain your cabinets yourself but although you're not completely redoing your kitchen or bathroom, painting or staining an entire kitchen's worth of cabinets is still a major project.
Mistakes You Avoid By Hiring Us
Thinking it just takes a weekend: Painting or staining cabinets is a four to seven day job. You can't just do it on your day or days off and expect to be done.
Improper Pre-cleaning: You might think you've cleaned your cabinets, but do you know what type of cleaner to use and did you clean every part of every surface?
Not Removing the Doors and Drawers: This will not save you time and money. In fact, all that will happen is the paint will chip in under a month and you'll end up calling a professional anyway.
You Don't Sand Or Prime: If you skip either or both of these steps you're not going to have good results at all.
You Put the Cabinets Back Too Soon: You might be impatient, especially if you made the mistake of thinking this was just a weekend project, but reinstalling your cabinet doors and drawers before the paint fully cures will mean you have to redo everything.
Get the job done right the first time. If you're thinking about painting or staining your bathroom or kitchen cabinets, call Clearwater Painting & Restoration today instead.