When you have an older or historical era home in Boise, ID, your house requires extra care and contains a lot of detailed craftsmanship not present in most contemporary homes. Here at Clearwater Painting & Restoration, we bring you service that's trusted by other experts including Boise's own Dennis Arthur Stevens, Frank Lloyd Wright's last apprentice. Dennis trusts us over any other drywall and painting contractor. Knowing that, even if you have a contemporary home, wouldn't you rather a trusted and professional contractor perform any drywall repairs your Boise, ID home needs?
Since drywall's inception in the early 20th century, the time it takes to install or repair walls has greatly reduced from the days of plaster. Plus drywall is more effective for soundproofing and increased fire safety. Furthermore, an experienced professional drywall contractor can mimic just about any texture to match the plaster details present in older homes. However, drywall is susceptible to a few problems, especially when poorly installed, that require repairs.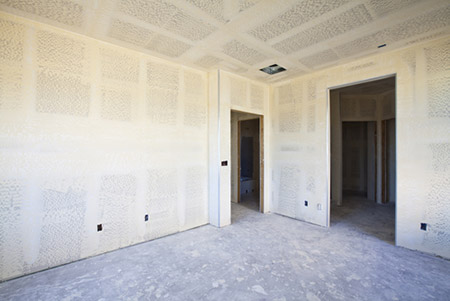 Clearwater Painting & Restoration Drywall Repair Solutions and Services
Repair Electrical Damage: When you change a light fixture or have oversized outlet openings, you might wind up with a hole or other damage to your drywall that needs attention.
Repair Plumbing Access Damage: If you have a leak, often you or a plumber must cut away a large part of drywall in order to access your home's pipes and repair the problem. Unfortunately this means, you're left with a large hole in the drywall that will need to be fixed.
Repair Mold and Moisture Damage: Unfortunately the materials drywall is made up are highly susceptible to mold and mildew. That's why if you have damage from a leak, you must have the damaged drywall replaced.
Seal and Cover Water Stains: Unlike water damage from major plumbing issues, a water stain on the ceiling or next to a window usually requires a simple repair.
Patch Nicks, Scrapes, Holes, and Nail Pops: Some damage can be superficial like small holes from nails, minor nicks and scrapes, or places where nails have popped through the surface. Other holes might be larger like those created from door handles, kids playing rough, or other incident.
Repair Torn Drywall: Unfortunately sometimes inexperienced contractors don't prime your walls correctly before hanging wallpaper. When you try to remove the paper, you end up with torn drywall.
Textured Surface Repair: If you have any type of textured surface, drywall repair will always require matching the existing texture. This process is complicated and not something easy to do yourself.
No matter what what drywall problems you have, from major water damage to small holes from nails, Clearwater Painting & Restoration can help. Call us today to set up a consultation.